Jens Haakon Brandl's beautiful Seafire FR 47 in 1/48th scale from the Airfix kit is a great example of a beautiful model built to a Fleet Air Arm theme.
Barracuda Studios is proud to announce the return of our special theme award, presented by us at the IPMS/USA National Convention, being held this year in Orlando, Florida during early August. That gives you about 2 months to get something together if you plan to compete.
The subject must be an aircraft (yes, we will even allow those odd looking contraptions with the propeller on top!) model.

The subject must be a British designed and built aircraft. No lend lease aircraft such as Hellcats, Avengers, Wildcats and the like. Spey-engined Phantoms are OK, as they are a very different animal that only served with the British. Why? because I want to see something different from the usual remarked Hellcat!

The model can be any scale and media. It can be from any era, from the FAA's inception in 1924 to the current day. It must be in RN Fleet Air Arm Markings. No Ethiopian Fireflies please.

The judging will be performed by an experienced 3 man team consisting of myself and 2 others of my choosing. Judging will be to IPMS standards. In other words, all the detail and fancy paintwork in the world won't help you if you have basic assembly and finish problems such as silvered decals, seams showing, misaligned components, etc.

No full time Barracuda Studios employees are eligible to compete. That means I cannot enter. Dang!

You do not have to use any Barracuda or Cooper parts or decals in your build, and no special consideration will be given if you do. Bribes are another matter! :-)
Contact us if you have any questions about eligibility.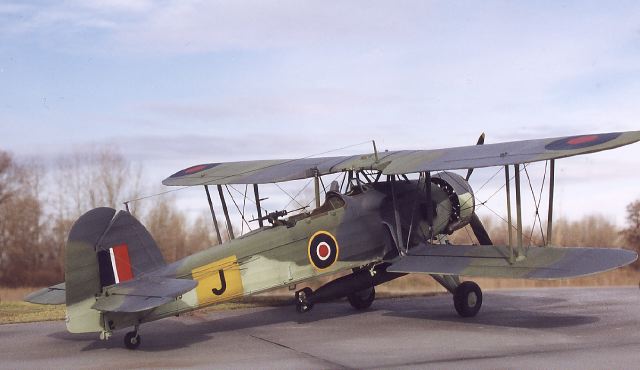 Ian Robertson's beautiful Fairey Swordfish in 1/48th scale was built from the superb Tamiya kit.
Just about 2 months til the show, so you better get building! Not enough time for you? Build at a Geologic pace? No worries, mate! We will be sponsoring this trophy again next year in Loveland, Colorado.
The trophy will be presented at the show, and will be something pretty special. Previous awards were well received, back in the Cooper Details days.
This is a category that used to be a bit of a challenge to build for, as the amount of really nice kits was very limited, but the last 5 years or so have seen a proliferation of really nice kits of a wide variety of FAA subjects, so I expect to see some nice work.
OK. GO! ...What are you still doing here? The clock, she is a-ticking! That model ain't gonna build itself, you know. :-)